Hire A Dinosaur is the Worlds Greatest provider of Dinosaur based Entertainment with a wide variety of Living Dinosaurs! Our ultra high quality of Performers and Creatures is the reason we are trusted for the biggest and best events around the world!
From the Infamouse T-Rex… who can be seen having way too much fun below… the Raptors, or maybe event the baby dinosaurs, we have some incredible options for you and your event.
We have an array of products with specifically tailored towards our different client bases within:
Large Events
Corporate Events
Public Shows
Private Parties
In addition to these we also do several Live Shows and Tours with different options for both Entertainment and Educational Purposes!
READY TO HIRE A DINOSAUR ?    HERE ARE THE OPTIONS!
T Rex : Raptors : Baby Dinosaurs : Hatch-lings : Dinosaur Discovery Digs : Workshops : Large Dinosaur Skeleton Displays : Event Decoration
CLICK  to go to the relevant page if you know what you'd like
– OR –
READ BELOW for more General Information
Fresh from their recent Big Screen Movie roles and TV Gigs, Big Al our T-Rex, Ronnie the Raptor and his little Raptor family are attending a tonne of different Events and Parties all over the country and even across the globe! But it's not just them! We also have a range of Baby Dinosaurs including a baby Indominus Rex fresh from the shores of Jurassic World and our lovely baby Triceratops, T-Rex, Spinosaurus and Allosaurus! There are so many great options when you choose to Hire A Dinosaur!
Do you want our Big T-Rex, our Adult Raptors to cause a stir? Or would you prefer the Baby Dinosaurs to arrive at your party and promptly cause some organised chaos! Whether you would like them to be lying in wait for your guests to arrive or make an appearance mid flow, however you want to play it, you can be sure our ultra realisitic life-size dinosaur (…or two!) are something your guests will NEVER FORGET! Adults and kids a like are in awe as they watch a Dinosaur come to life in front of their eyes!
We constantly have people ask use if they are real. Yes they genuinely ask us! That's our good our creatures are! And of course… the answer is YES!
Scroll down to choose our T REX or RAPTORS or BOTH !
T-REX
[one_half]
Our Tyrannosaurs are the most incredible creatures you are ever going to come across! Huge, boisterous and jaw droppingly exciting, having one of our T-Rex at your event really is and unforgettable experience. They have so much character and are incredibly life like! Want more than one? That's ok… We have a herd!
Our T-Rex are available in different styles and with or without accessories and are up to a whopping 6 meters in length! Our Dinosaurs are Operated by our professional Actors/ Puppeteers who's credits include creature work on Star Wars, Predator, Extinction and games like Ghost Recon. Our Dinosaurs are Supported by our fantastic Wranglers who help the public interact with the Dinosaurs and get the most out of the experience! For more information on the T-Rex go to the  Hire A T-Rex  page or to book Contact Us.
BOOK YOURS TODAY
[/one_half] [one_half_last]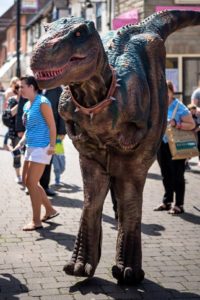 [/one_half_last]
RAPTORS 
[one_half]
Our Raptors are a fantastic addition to any event and what's more that are a little less gigantic than our T-Rex! Whether it's making their way through the crowds or on the Red Carpet, our Raptors are big enough to grab the crowds attention and make a really fantastic impact whilst also allowing people to get really up close and personal without being as intimidated.. but watch out for those teeth! Puppeteered by our professional Actors and Puppeteer , these nibbly monsters are full of character and personality and they will enthrall your guests or the public.
As with our T-Rex our team have huge film and TV credits that include, TORCHWOOD, STAR WARS, PREDATOR, BOND, JURASSIC and many others. Our unrivaled professionalism and experience is what makes our dinosaurs so special.
Here One is walking the Red Carpet in London Leicester Square
For more information on the Raptor go to the  Hire A Raptor  page or to book Contact Us.
BOOK YOURS TODAY
[/one_half] [one_half_last]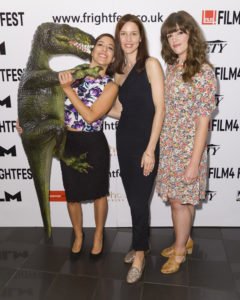 [/one_half_last]
BABY DINOSAURS
[one_half]They are as cute as they are naughty ! These feisty little critters are just fantastic! They are wonderful for up close and personal interactions and even for larger stage environments. Kids and adults love them and although they can be known to nibble a finger or two they are so cute they seem to get away with it. We have many different types of Baby Dinosaur including Jurassic World's Indominus Rex, the ultra cute Triceratops, Raptors, T-Rex, Allosaurus and Spinosaurus! Choose your favorite or why not have a few of them! For more information on the Baby Dinosaurs go to the  Hire A Baby Dinosaur page or to book Contact Us. BOOK YOURS TODAY[/one_half] [one_half_last]
[/one_half_last]
DINOSAUR DISCOVERY DIGS
[one_half]The Dinosaur Discovery Digs are just brilliant fun and don't tell the kids, highly educational too! With our experts explaining what the young adventurers will find buried our Pits, the kids are always enthralled at the finding and identifying of every fossil they find with a wonderfully exciting end discovery that brings them all together. The activity is great for each individual and also encourages teamwork as they each see what they are finding. It's a fantastic experience for kids and parents a like. Looking for the extra special version of this? Just ask! It's outrageously good. Our service is totally bespoke so we can do pretty much whatever you want, but if you need some help with picking your options see below![/one_half] [one_half_last]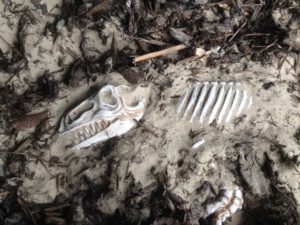 [/one_half_last]
HIRE A DINOSAUR – MAIN OPTIONS:
DINO HIRE: This comes with one Operator and one Dino Wrangler. Also available with a bunch of additional extras including:
Additional Dino Wrangler: A scientist or Ranger who can  help crowds interact with the rampaging T-Rex!
Face Painter: Have your guests faces painted like the Dinosaurs by our famous Make Up Artist
Film & Video: What about your very own MINI MOVIE! Your guests, big or small can have their very own part in a mini movie with the dinosaurs! Or maybe just have the fun and chaos of a dinosaur at your event captured on film! Either way, it's a great add on
Stills Package: If you don't want to capture your Event in a mini movie, you can make sure that you don't miss out on your capturing the magic of your guests reactions when they see your Dinosaur by booking our Stills Photograph Package
DINOSAUR COMBINATION OPTIONS
T-Rex
Raptor
Baby Dinosaurs
Dinosaur Discovery Digs
T-Rex + Raptor(s)
T-Rex + Wrangler
Raptor(s) + Wrangler
T-Rex + Face Painter
Raptor(s) + Face Painter
T-Rex + Wrangler + Face Painter
Video Package
Photographer
Video and Stills
Contact our Team for a Quote! info@dinohire.com +44 (0) 208 224 5370
THE JURASSIC PARTY 
"attractions so astounding, they'll capture the imagination of the entire planet." as a famous movie once said!
Have our T-Rex and our actors recreate the awe, the excitement and the sheer terror of Jurassic Park for your guests with our staged and choreographed entertainment package. What's more you'll all be in your own movie as we'll film it for you to keep as an everlasting memento!
Package Option
T-Rex
T-Rex + Raptor(s)
T-Rex + Raptor(s) + Science Team + Fences & Themes
T-Rex + Raptor(s) + Science Team + Fences & Themes + Video Package
Contact our Team for a Quote! info@dinohire.com +44 (0) 208 224 5370 [/box]
DINOSAUR DISCOVERY DIG
How about an exciting Dinosaur Discovery Dig Activity? This is our most popular package for children's Birthday parties as it's fun, interactive AND educational!
We provide all the Props, Dinosaur Bones and Fossils and even the 'Dig Site' which is transported straight to your location, which means no mess, no fuss, just some amazing activities for a range of age groups! The Birthday Boy or Girl also receives a Special and Personalised Discovery Dig Present and all the other children receive a Personalised Discovery Dig Certificate! We provide enough Fun and Entertainment for up to 20 children!
Package Options:
Discovery Dig + Baby Dino
Discovery Dig + T-Rex
Discovery Dig + Adult Raptor or Baby Dino
Discovery Dig + Adult Raptor or Baby Dino + Video
Discovery Dig + Adult Raptor Or Baby Dino + Video + Stills
EVERY BIRTHDAY PACKAGE INCLUDES Personalised Birthday Present PLUS Personalised Friends Certificates for FREE with every Dig as standard!
Contact our Team for a Quote! info@dinohire.com +44 (0) 208 224 5370
Does all of that sound too good to limit yourself to only one Option? Can't choose which Option to go for?
With our Bespoke Booking Service we will design any Event for you to meet your exact Event Requirements
Contact our Team for a Quote! info@dinohire.com +44 (0) 208 224 5370 
FREE PR!
Whatever package you decide to go for, we offer FREE PROMOTION across all of our Social Media channels which include FACEBOOK and TWITTER for EVERY Dino Hire event!
If you would like to take full advantage of our free promotion all you need to do is to send over all your relevant Event Information including any artwork and links to your social media channels!
We have a dedicated fan base who are desperate to see when our next DINOSAUR appearance is so make sure they know when and where your event is!
Contact our Team for a Quote! info@dinohire.com +44 (0) 208 224 5370