Did you know as well as being able to rent a Dinosaur, we have lots of other options to! Hire a Dinosaur is owned by Creature Events  why not go to the main site to see the entire range!
We also offer Transformers, Gorillas, Lions and much much more?  That's right, Creature Events is our main site and there you can see all of our amazing Creature options!
Below are some of the fantastic Creatures you can also hire with our fantastic performers. Take a look at them! Don't just rent a dinosaur, look at all these other options too!
Aslan the Lion – This amazing animatronic Lion suit is an ultra realistic piece that integrates a human performer with an animatronic head. It is available in a number of options, that include Natural and Beast modes. This stunning Lion has even been featured as a real lion in the Amazon Prime show – THE GRAND TOUR –  So fi you don't want to rent a Dinosaur you can rent a Lion!
Natural – In Natural mode the Lion is more realistic, the performer works the suit in a naturalistic way.
Beast – In the Beast mode the we use the special standing feet and can even add horns, to mimic the Beast. We can even provide a Belle!
HIRE A DRAGON
Briag the Dragon is an amazing beast at 6m long he's an impressive sight to behold! Wings, spikes and massive teeth this dragon is a superbly exciting beast to have at any event!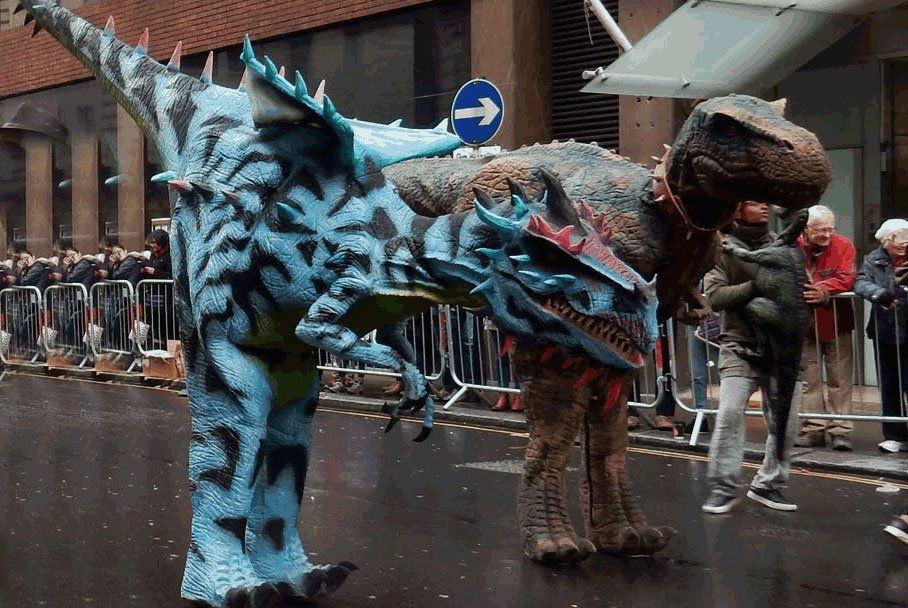 Kong & Attar – These amazing animatronic Gorillas are so realistic you will not be able to tell them apart from the real thing. Combining a human performer inside the suit, with an animatronic face and hands our Gorilla suit is both imposing and realistic and able to perform many on screen and live tasks.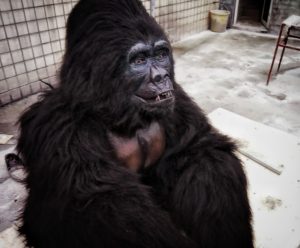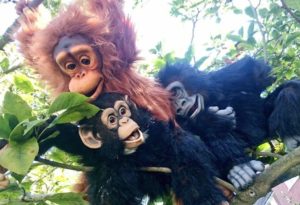 Transformers –  We know how awesome it is to rent a Dinosaur, but it's also REALLY fun to have one of our Transformers! At up to 2.8m tall, Optimus Prime and Bumble Bee are an awesome sight! Covered in LED lights and with amazingly skilled performers, these guys are a great fun and exciting part of any event!
T-Rex Leg: Jurassic Park – We are lucky enough to have one of the T-Rex legs from Jurassic Park! Talk about unique! Add some wow factor and some movie histroy to your event and have this big girl make an IMPACT!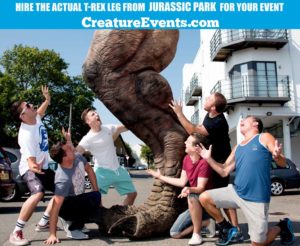 Great White Shark – Nibbles has he's affectionately known is our Great White. We are still working on our animatronic moving shark, but in the meantime, you can hire our static one! He's ultra realistic and a great photo op! If you aren't looking to rent a Dinosaur, you can rent a shark We also have a 3 very large  shark jaws available for hire including Tiger shark & Bull Shark.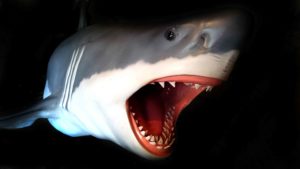 Rent a Dinosaur – With a range of unbeatable quality in both creature costume and performers, our dinosaurs are the original and the best.  We custom build these amazing creatures and they are suitable for both Live Events and TV or Film.
Want to know more about what we do at creature events? Check us out on FACEBOOK
Not looking to Hire the Transformers? Don't worry, we have lots of other amazing creatures that would work for your event!  Lions, Apes, Dragons, Dinosaurs, Werewolves, Bigfoot, Yeti, Sharks, Hybrids, Superheros and much much more! Do you want something totally bespoke? We can do that too! What about creating an immersive experience? No problem! Talk to our team TODAY and see what we can do for you !